UC Davis Sits on Patwin Land
On November 14, 2009, on a cold and windy morning, students, faculty, administrators, and Patwin descendants gathered together to dedicate a new outdoor reflective space honoring the original people who once lived on the land that would become the University of California, Davis.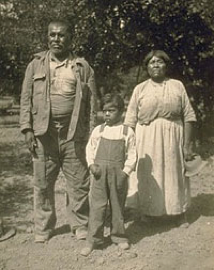 Among those attending the ceremony for the Native American Contemplative Garden were Patwin Elder Bill Wright; Charlie Wright, tribal chair of the Cortina Rancheria; Larry Myers, executive secretary of the California Native American Heritage Commission; Martha Macri, professor in the UC Davis Department of Native American Studies and holder of the Rumsey (Yocha Dehe) Endowed Chair in California Indian Studies; and UC Davis Chancellor Linda Katehi.
A committee including representatives from UC Davis, its staff and students, and the Patwin community worked together to develop the plan to honor the Patwin heritage of UC Davis, the Department of Native American Studies, and all Native Americans at UC Davis and in the region. The project also serves to mark the Patwin's spiritual connection to the land and their ancestors.
The Patwin people lived not only in villages along Putah Creek, but in hundreds of villages lining the creeks from Glenn County to San Francisco Bay.  As a people, they were decimated by disease and forced relocation to missions. Today, only three federally recognized Patwin (Wintun) Indian rancherias remain.
In the garden's vista, across the creek and through large trees -- including a 400-year-old oak -- is the Robert and Margrit Mondavi Center for the  Performing Arts. In 1999, during the building's construction, an excavation crew uncovered 13 Patwin burials. All remains were subsequently reburied in an undisclosed location.
Patwin Elder Wright has stated that the new reflective area offers encouragement to American Indian students, telling them that they belong here, that they belong in higher education -- and they can say, "I'm a part of this."
. . . . . . . . . . . . . . . .
To view and learn more about the Native American Contemplative Garden, we provide these videos and website:
https://www.youtube.com/watch?v=pakY5lfg9VM
https://www.youtube.com/watch?v=GUa2BBxuk_E
https://arboretum.ucdavis.edu/native-american-contemplative-garden