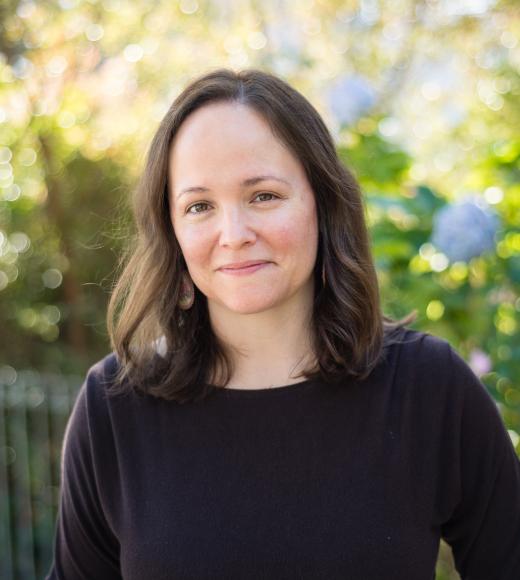 Position Title

Assistant Professor
Bio
Academic History
UC President's Postdoctoral Fellow, Music (2011-2013) – University of California, Berkeley
PhD, Musicology (2011) – University of California, Los Angeles
MA, Music (2005)  – University of Nevada, Reno
BME, Music Education (2003) – Central Washington University
---
Research and Teaching Interests
Music, sound and media studies; Alaska Native, Circumpolar Inuit, North Pacific Crescent, and African-Native American cultures, histories, and politics; Indigenous aesthetics, methodologies, and pedagogies; critical race and gender studies; urban histories and popular culture studies.
---
About
Jessica Bissett Perea is an interdisciplinary scholar whose work intersects the larger fields of Native American & Indigenous Studies and Music & Sound Studies. Her research, teaching, and service priorities are informed by her lived experiences and academic training. She was born in Anchorage, Alaska and raised on her ancestral Dena'ina (Athabascan) homelands forty miles north in the Matanuska-Susitna Valley. She is an enrolled member of the Knik Tribe and a shareholder in Cook Inlet Region, Inc. (an Alaska Native Corporation). Jessica studied double bass and vocal performance, music education, and history at Central Washington University before pursuing an MA in Music at the University of Nevada, Reno. She completed her Ph.D. in Musicology at the University of California, Los Angeles and was awarded a Postdoctoral Fellowship in Music at UC Berkeley. Jessica currently works as an Assistant Professor in the Department of Native American Studies at the University of California, Davis, with affiliations in Human Rights Studies, Performance Studies, Feminist Theory and Research, Cultural Studies, and Writing, Rhetoric and Composition Studies.
Jessica's work develops new directions for transdisciplinary research, the significance of which has been recognized via peer-reviewed funding, presentations, and publication opportunities. Her research has been supported by the Woodrow Wilson National Fellowship Foundation and the Andrew W. Mellon Foundation, the Hellman Fellows Program, the Society for Ethnomusicology, the UC Institute for Research in the Arts, the UC Center for New Racial Studies, the UC Humanities Research Institute, the UC President's Office, and more. Her innovative research, teaching, and dedication to community outreach were recognized with a 2010 Alaska Native Visionary Award, presented by the Alaska Native Heritage Month committee and board of directors, and a 2015 UC Davis Native American Community Honoring, presented by the Native American Culture Days and Powwow Committees.
---
Selected Publications and In-Progress Works
Books
Under Contract. Sound Relations: Alaska Native Histories of Music. In the "American Musicspheres" series, ed. Mark Slobin. Oxford University Press.
In Progress. Keywords for an Indigenized Sound Studies, co-edited with Trevor Reed.
Journals Guest-Edited
Forthcoming 2019. "Music, Indigeneity and Colonialism in the Americas." Journal of the Society for American Music. Special Issue, co-edited with Gabriel Solis.
Journal Articles
2013. "A Tribalography of Alaska Native Presence in Academia." In American Indian Culture and Research Journal 37 (3): 3–27. Special Issue, "Reducing Barriers to Native American Student Success in Higher Education: Challenges and Best Practices," edited by Robert Keith Collins.
2012. "Pamyua's Akutaq: Traditions of Modern Inuit Modalities in Alaska." In MUSICultures 39 (1): 7–41. Special Issue, "Indigenous Modernities," edited by Beverley Diamond, Kati Szego, and Heather Sparling.
Book Chapters
2019. "Inuit Sound Worlding and Audioreelism in Flying Wild Alaska." In Music and Modernity Among First Peoples of North America, edited by Victoria Lindsay Levine and Dylan Robinson, 174-197. Middletown: Wesleyan University Press.
2017. "Audiovisualizing Iñupiaq Men and Masculinities On The Ice." In Critically Sovereign: Indigenous Gender, Sexuality, and Feminist Studies, edited by Joanne Barker, 127-68. Duke University Press.
2012. "Voices from the Jazz Wilderness: Locating Pacific Northwest Jazz Choir Culture." In Jazz/Not Jazz: The Music and Its Boundaries, edited by David Ake, Charles H. Garrett, and Daniel Goldmark, 219–36. University of California Press.
---
Selected Research Grants and Fellowships
External
2017 – 2018

. 

Short Seminar Award, the School for Advanced Research Scholar Programs,

 

Co-PIs Jessica Bissett Perea

(UC Davis)

and Trevor Reed

(Arizona State University)

2016 – 2017

. 

Career Enhancement Fellowship for Junior Faculty, Woodrow Wilson National Fellowship Foundation and the Andrew W. Mellon Foundation
2016 – 2017

. 

American Postdoctoral Leave Fellowship, American Association of University Women (declined)
Internal
2019 –

2020. 

Faculty Collaboratory Fellow, UC Davis Feminist Research Institute
2019 –

2020. 

"Networking Sustainable Futurities: Perspectives from the North Pacific" Research Cluster, UC Davis Humanities Institute
2017

. 

Faculty Summer Fellowship, UC Davis Humanities Institute
2016 – 2017

. 

University of California President's Faculty Research Fellowship in the Humanities, UC Office of the President and the UC Humanities Network
2016 – 2017

. 

Junior Faculty Manuscript Development Workshop Grant, University of California Humanities Research Institute
2016 – 2017

. 

Faculty Development Award, UC Davis Office of the Provost and Executive Vice Chancellor
2015 – 2016

. 

Early Career Faculty Fellowship, UC Davis Hellman Fellows Fund
2015

. 

Research Working Group Grant

, Principal Investigator for the "UC Arctic Cultural Studies," UC Center for New Racial Studies

2014 – 2016

. 

Small Grant in Aid of Research, UC Davis Academic Senate Committee on Research
Curriculum Development Grants
2016 –

2017. 

Dean Witter Fund, UC Davis Student Development Funds
2014 – 2015

. 

Open Classroom Challenge Grant, UC Institute for Research in the Arts
2014 – 2015

. 

Undergraduate Instructional Improvement Program Large Grant, UC Davis Center for Excellence in Teaching and Learning
---
Honors and Awards
2016. Research and Publication Award, Diversity Action Committee of the Society for Ethnomusicology
2015

. 

UC Davis Native American Community Honoring, Native American Culture Days and Powwow Committees, Cross Cultural Center, UC Davis
2010

. 

Alaska Native Visionary Award,

Alaska Native Heritage Month Board of Directors