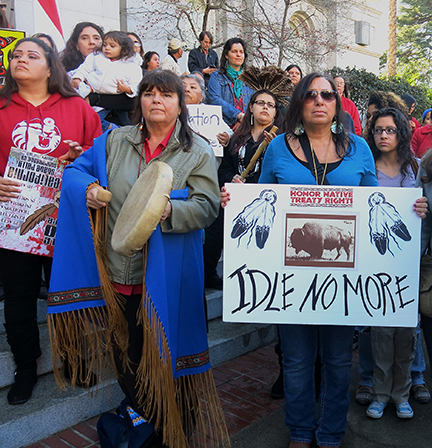 NAS Faculty Hulleah J. Tsinhnahjinnie, Solo Exhibition,
Witnessing Resurgence: Portraits of Resilience, at CSU-Sacramento Library Gallery
"Witnessing Resurgence: Portraits of Resilience"
Artist presentation, November 15, 2018 @ 3pm
Exhibition ends Dec. 14, 2018
Solo Exhibition, by NAS Professor Hulleah J. Tsinhnahjinnie
CSU-Sacramento Library Gallery, Prof. Tsinhnahjinnie presents
28 photographic portraits portraying profiles of resilience within the Native American community.
For this exhibition I had the rare opportunity to curate my own exhibition.  I had a strong desire to show portraits and in doing so I reviewed my archive and chose portraits that possessed personal resonance.  The selection is based on friendship and admiration (of course the space was not large enough to accommodate my original selection.) 
The portraits in this exhibition are of community members who have contributed to the continuance of resistance and resurgence of Native American and First Nation communities.  Friends who are involved with the revitalization of language, culture, environment and addressing the ever-contentious land issues.  Some have joined the ancestors and others continue putting positive energy into our communities.
Each person portrayed has a story that is incredibly full of courage and complexity. Some are well known to a wide audience and have articles, books and movies describing their contributions, others are well known within the communities in which they contribute and are deeply respected and loved.  I encourage you to research their stories.
I would like to thank my friends and family who have participated in this exhibition.  I would also like to acknowledge the Bread and Roses Project, Union 1199, Native Women of Hope Posters: Carrie and Mary Dann, Winona LaDuke, Wilma Mankiller; First Peoples Fund, Community Spirit Honorees: Nora and Richard Daunhauer, Lyn Risling, Kathy Wallace; and The Seventh Generation Fund for Indigenous People: Standing Rock.
Thank you,
Wakinyan and Juanita Corbine Espinosa
Gladys Ellenwood & Family (Nizhoni Ellenwood)
Carrie & Mary Dann
Wilma Pearl Mankiller
Nora and Richard Dauenhauer
Winona LaDuke
L Frank Manriquez
Janeen Antoine
Michael Horse
Corrina Gould
W. Patrick Kincaid J.D.
Amari M. Passalacqua
Erik Kimple
Randy Burns
Mary Jean Robertson
Dr. Mique'l Dangeli and family
Lyn Risling
Vanessa Esquivido
Susan Jim
Dr. Steven J. Crum
Dr. Annette L. Reed
Kathy Wallace