Native American Studies Professor Wins Carnegie Fellowship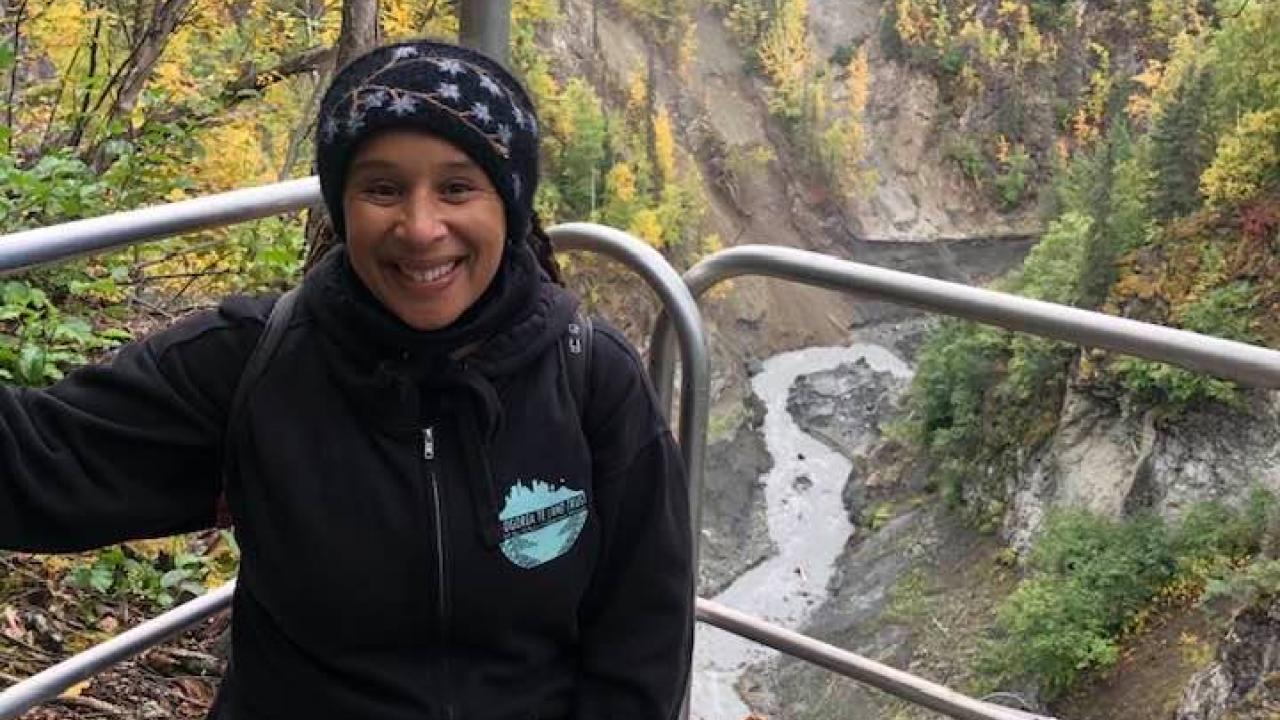 Beth Rose Middleton Manning above the Eklutna River in Alaska. (Courtesy photo)
Native American Studies Professor Wins Carnegie Fellowship
Award Supports Research for Book on Dam Removal and Land Restoration
by Jeffrey Day
April 25, 2022
Beth Rose Middleton Manning recalls being elated watching the Eklutna River in Alaska flowing freely after a dam was removed. The UC Davis Department of Native American studies professor had a similar feeling upon learning she received a 2022 Andrew Carnegie Fellowship for her research on dam removal and land restoration.
She is one of 28 scholars, journalists and authors awarded the fellowship, which carries a $200,000 stipend.
"It was a huge surprise that will allow me to expand to more rivers and more dams," Middleton Manning said. "I'm incredibly grateful and excited to expand the scope."
Her work in this field will lead to a book, provisionally entitled Healing Rivers, Communities, and Homelands: Indigenous Leadership in 21st-Century Dam Removal and River Restoration in North America. Last year Middleton Manning received $230,000 from the Resources Legacy Fund for the project.
"Professor Middleton Manning's work building the field of tribal conservation studies, in close collaboration with Native American communities, has made a difference in the lives of Indigenous peoples across the nation," said Chancellor Gary S. May.
Dams disrupt the entire ecology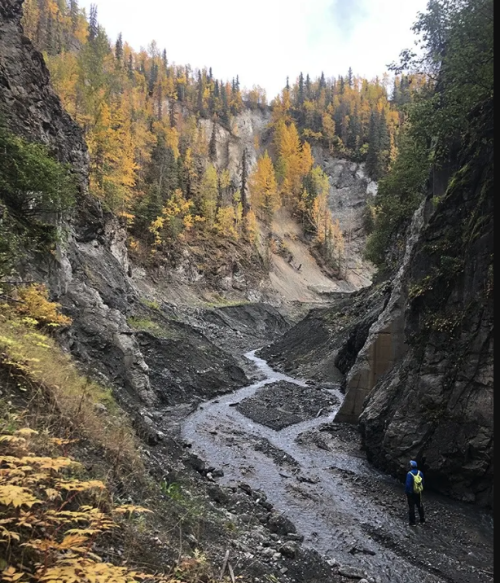 A section of the Eklutna River in southern Alaska after one of the dams holding it back was removed. (Brad Meiklejohn)
Starting in the 19th century, rivers across the country were dammed to provide water (and later hydroelectric power) to settlers and growing cities. The dams were largely built without the consent of tribal people who had long depended on the rivers, and the construction was sometimes used to facilitate removal of Native peoples, according to Middleton Manning.
Middleton Manning will interview parties involved in dam removal — tribes, governmental agencies, environmental organizations and others — and examine the past, present and future of at least six dammed rivers in the U.S. and Canada. The project envisions moving away from dams as a tool of removal, to dam removal as a way to sustain people and communities, she said.
When a river is dammed, "the whole ecology is changed," she said. "I'm interested in shifting the focus of these rivers from being a source of energy to sustainers of life. This is also a story of justice. It involves thinking through historic harms, from flooding tribal lands to taking away fisheries and how they continue into the present. This project works at many different registers and is very interdisciplinary."
Healing Rivers, Communities, and Homelands will be a follow-up to Middleton Manning's 2018 book Upstream: Trust Lands and Power on the Feather River, which examined the dam system in the Feather River Canyon northeast of Chico, California. There she found a "legacy of disregard for Native American lifeways, homelands and survival." Middleton Manning has also been a leader in researching and teaching about Native American burning practices as a way to mitigate wildfires. She is overseeing and mentoring a postdoctoral fellow studying Indigenous fire practices.
Middleton Manning, who earned a bachelor's degree in nature and culture studies from UC Davis, is also developing curriculum on land returns to tribes as part of a multicampus research initiative involving faculty at UCLA, UC Riverside, UC San Diego and UC Berkeley. The curriculum project will result in multimedia modules for UC courses that can be offered widely online.
Fellowships fund humanities and social science projects
The 2022 proposals submitted to the Carnegie Fellows Program focus on U.S. democracy, the environment, polarization and inequality, technological and cultural evolution, and international relations, among other subjects. About 300 nominations were submitted for the fellowship. Fellowship winners were announced on April 26.
Started in 2015, the Andrew Carnegie Fellows Program is a continuation of the mission of Carnegie Corporation of New York, as founded by Andrew Carnegie in 1911, to promote the advancement and diffusion of knowledge and understanding.
Middleton Manning is the second UC Davis College of Letters and Science professor to receive a Carnegie Fellowship in recent years. History professor Andrés Reséndez received the fellowship in 2020.