College Honors Five Faculty as Prized Teachers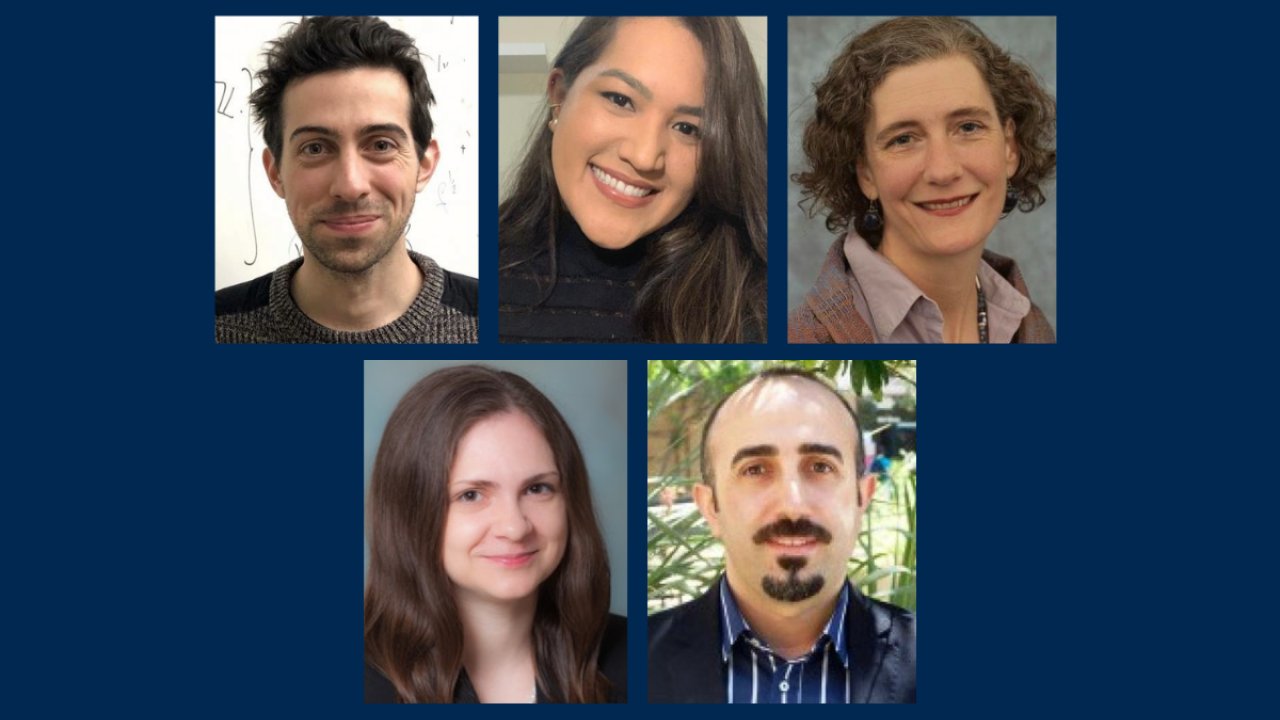 Recipients of the 2022 College of Letters and Science Teaching Awards, clockwise from top left: Roger Casals (mathematics), Eugênia Fernandes (Portuguese), Liza Grandia (Native American studies), Ozcan Gulacar (chemistry) and Camelia Hostinar (psychology).
College Honors Five Faculty as Prized Teachers
by Kathleen Holder and Jeffrey Day
July 11, 2022
Five faculty acclaimed for educational leadership in the UC Davis departments of Chemistry, Mathematics, Native American Studies, Psychology, and Spanish and Portuguese are recipients of the 2022 College of Letters and Science Teaching Awards.
The annual awards recognize outstanding teaching on the undergraduate and graduate levels, both inside and outside the classroom. Recipients are members of the Academic Senate and Academic Federation who have been at UC Davis for at least three years. They were nominated for their accomplishments by faculty, students, student organizations, staff, alumni and College departments. A five-person faculty committee selected the winners below.
---
Roger Casals
Associate Professor of Mathematics

To engage students in his mathematics courses, Casals combines the age-old Socratic method — asking and answering questions — with contemporary problems like how to best hold a slice of pizza.
Colleagues who nominated him for the award praised him for his mastery of the material, passion for mathematics and science, clear lectures, sense of humor and infinite patience with and respect for students.
"Roger Casals is truly a brilliant teacher who imparts the joy of mathematics to students at all levels," Andrew Waldron, professor of mathematics, wrote in nominating Casals. "He is laying the foundations for them to succeed in any scientific endeavor they wish to tackle."
A UC Davis faculty member since 2018, Casals studies an area of mathematics called contact geometry, which deals with shapes formed by rays of light bouncing off other objects. In 2020, he received a Sloan Research Fellowship by the Alfred P. Sloan Foundation and a CAREER award from the National Science Foundation's Early Career Development Program.
Among courses he teaches are MAT 141 "Euclidean and Non-Euclidean Geometry" and MAT 108 "Introduction to Abstract Mathematics."
Professor Casals is the best professor I have had at UC Davis so far. His lectures are organized, and his knowledge of the material is astounding. He is very available outside of class, and does everything in his power to help students do well." — student course evaluation
---
Eugênia Fernandes
Continuing Lecturer of Portuguese

Since coming to UC Davis in 2014, Fernandes has taught the Portuguese language on all levels as well as composition and introductory Spanish. Trained as a linguist, she researches language acquisition with a focus on heritage speakers.
Fernandes' development of new teaching methods has received national recognition. In nominating her for the award, colleagues described her as "an exemplary, innovative and highly respected teacher."
Students praised her for bringing to class news clips, films, music and food to enhance the coursework and for creating projects to bring the students together in an atmosphere of collective learning and friendship.
Princeton University lecturer Luis Gonçalves credited her leadership for the UC Davis Portuguese Language Program's status as a "national reference in quality and innovation" and "a model to all Portuguese professors in terms of curriculum and language program development."
Without any exaggeration, Dr. Fernandes is one of the most gifted language teachers I have ever observed." —Robert Blake, Distinguished Professor Emeritus of Spanish
---
Liza Grandia
Associate Professor of Native American Studies

An anthropologist studying and working with the Indigenous people of Central America, Grandia has established herself internationally as a specialist on agrarian reform, corporate trade and globalization, foreign aid and empire, biodiversity conservation, political ecology and environmental justice. She is known widely for her community-based and participatory action research and allyship to Indigenous movements. She has served as an expert witness in historical land cases in Belize and written op-eds on Indigenous issues for major newspapers, serving as a model for her students to be agents of change.
At UC Davis since 2012, Grandia has mentored students across campus, with many of them going on to internships and graduate programs; two have received National Science Foundation graduate fellowships, four have received prestigious, competitive postdocs and two have landed coveted faculty positions.
Grandia has developed two popular courses — one on farming in the Americas and another on "corporate colonialism."
Students "flock to her courses" according to three colleagues who nominated her for the award. "Professor Grandia not only educates brilliant future faculty members and practitioners; she goes above and beyond curricular requirements to shape emerging scholars to make positive, impactful, lasting impacts on the world," they wrote.
Although her primary research is on Central America, she has made many contributions and led engagement locally, including an examination of Yolo County regulation of agricultural waste and farmworkers' exposure to agrochemicals and organizing a "Standing Rock teach-in" that brought together campus and community. She was named "best grassroots activist" in the region by the Sierra Club. 
She brings a contagious and fiery passion to everything she teaches, and invites students as true collaborators and thought partners." — student course evaluation
---
Ozcan Gulacar
Associate Professor of Teaching, Chemistry

An expert on science education, Gulacar incorporates real-world issues like hydraulic fracturing into his chemistry courses. He also employs videos, interactive apps and an array of other study-based techniques to engage students — before, during and after his lectures.
His efforts to make chemistry accessible to all undergraduates has earned him more than praise from students. He also garnered the attention of science, technology and engineering educators on campus and beyond.
In 2020, he received an American Chemical Society Award for Incorporating Sustainability into Chemistry Education and was selected as a Fulbright Specialist in Chemistry Education.
He teaches the three-course General Chemistry Series CHE 2A, B and C, as well as seminars on topics like the UN Sustainable Development goals, study skills and the undergraduate research experience.
A UC Davis faculty member since 2015, he relies solely on undergraduates to assist his research on STEM students' problem-solving abilities and knowledge structures. Many undergraduates in his research group present their findings at conferences and have their papers published before they graduate.
He has also been active in department and campuswide efforts to enhance student learning.
Professor Gulacar is creating resources in teaching techniques and testing new and innovative models that the entire faculty can use." — Susan Kauzlarich, Distinguished Professor of Chemistry
---
Camelia Hostinar
Associate Professor of Psychology

Since joining the Department of Psychology in 2016, Hostinar has earned stellar reviews from undergraduate and graduate students for her clarity, enthusiasm and compassion — and for linking scholarly research to real-world concerns like stress. During the pandemic, when courses moved online and student stress levels soared, her ratings rose even higher.
"Professor Hostinar provided her students with a deep understanding of the science that links stress and health, but she also provided them with practical, empirically validated methods for coping with stress (and helping their friends and family members as well)," Steve Luck, Distinguished Professor of Psychology, wrote in nominating Hostinar for a teaching award.
Luck, a longtime member of the department's Instructional Support and Innovation Committee, said: "I have never seen a faculty member whose teaching performance exceeded that of Professor Hostinar. She is simply outstanding on every dimension."
Hostinar regularly teaches the popular course PSC 136 "Health Psychology" with class sizes of 300 students, and PSC 142 "Social and Personality Development," a General Education course cross-listed as HDE 102 with enrollments of 80 to 140 students. She uses active learning strategies like clicker questions, case studies and discussion to augment her lectures and slides.
In her Social Environment and Stress Lab, she mentors graduate and undergraduate students in research on how life experiences of children and teens shape their reactions to stress and their health. Many of her students have gone on to top graduate and postgraduate programs.
She truly cares about the well-being of her students and wants to make sure we do well, inside and outside of class time." — student course evaluation
— Kathleen Holder and Jeffrey Day, content strategists in the UC Davis College of Letters and Science