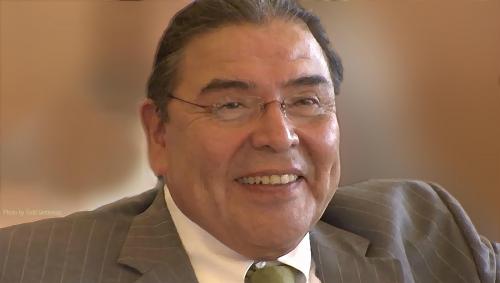 The Department of Native American Studies at UC Davis expresses our deep condolences to the Yocha Dehe Wintun Nation, and to the family of Yocha Dehe Chairman emeritus Marshall McKay. Marshall was a visionary leader; a champion of Indian education, self-determination, tribal government, economic development, and the arts. A kind, inclusive, and friendly man, he was also a fierce advocate for Indian students and Native American Studies. Under his administration at Yocha Dehe Wintun Nation, the Tribe finalized a commitment to found the Yocha Dehe Endowed Chair in Native American Studies, dedicated to producing scholarship and teaching on topics and issues of importance to California Indian people.
The Yocha Dehe Endowed Chair in Native American Studies has supported undergraduate student internships, graduate student research, hosting California Indian speakers, and the development and publishing of research on California Indian land and water rights and restoration. Chairman emeritus McKay was also an active benefactor across UC Davis, offering support to the Gorman Museum and leadership on the Agricultural Sustainability Institute and the UC Davis Foundation Board. Under Chairman McKay's administration, the Tribe also offered generous support to Native American Studies to host the 2011 international Native American and Indigenous Studies Association Conference.
The passing of Chairman emeritus McKay is a painful, significant loss across Indian Country and beyond. His visionary leadership had a broad and deep influence nationally and internationally. He was a founding member of the Native Arts & Cultures Foundation, a Board member for Smithsonian's National Museum of the American Indian, Board Chairman for the Autry National Center, a Board Member of the Native American Rights Fund, a member of the Board of Regents of the California Tribal College, and a Founding Commissioner of the California Native American Heritage Commission. Throughout his many commitments and accomplishments, he was grounded in California Indian history and identity, and articulated the importance of applying the UN Declaration on the Rights of Indigenous Peoples to regional and national law and policymaking. He was steadfast in his support for the return of Indigenous lands to Indigenous people in California and beyond, for the removal of offensive Native mascots, and for tribal self-determination in developing economic enterprises, educational facilities for Native youth and adults, and environmentally sustainable communities. For more on his history and accomplishments, please see this moving tribute to him from the Yocha Dehe Wintun Nation Tribal Council, which states, in part, "We will miss [Marshall's] strength and wisdom. He was a resolute protector of Native American heritage here, within our own homeland, but also throughout California and Indian Country." 
We honor Chairman emeritus McKay for his leadership, vision, kindness, and passion for Native self-determination, education, the arts, and social and environmental justice. We are grateful for his many contributions to our lives individually and collectively as the Native American Studies faculty and students at UC Davis. We offer our condolences, support, and gratitude to his family and community in the Yocha Dehe Wintun Nation in this painful time. In honor of his memory and in gratitude for his work, we each commit to strive in our own ways, in our diverse fields including law, policy, arts, literature, social sciences, and beyond, to contribute to his vision and commitments to Indigenous self-determination.