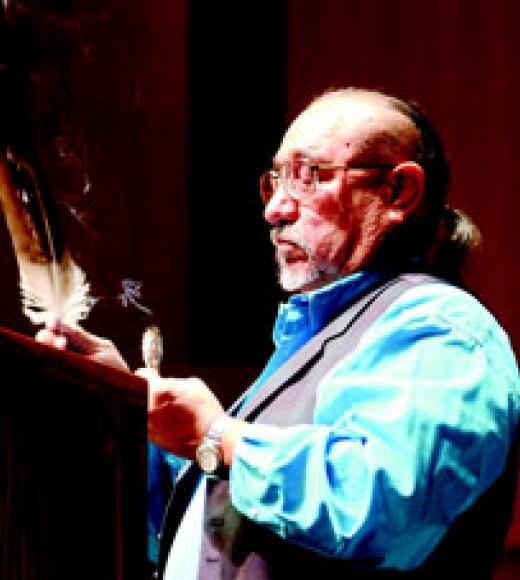 Bio
George Longfish (Seneca/Tuscarora), born in Ontario, Canada, has worked in the field of contemporary Native American art as an artist, educator, writer, and curator for over forty years. He is an internationally distinguished artist and an Emeritus Professor in the Department of Native American Studies at the University of California, Davis, where he was on the faculty from 1973 to 2003 and director of the Carl N. Gorman Museum from 1974 to 1996, and again during several years before retiring in 2003. Professor Longfish taught Modern Native American art, and art studio, as well as graduate level courses in his area. He developed the Gorman Museum as a premier showplace, bringing renowned Native artists to the UC Davis campus, and giving many Indigenous artists their first solo exhibitions. Known widely as a healer, he also supported spiritual activities on the campus and in the larger community. On the occasion of his retirement, his work was featured in a major retrospective exhibit at the John Natsoulas Gallery. He is currently living in Maine with his wife, Margo Curtin. He continues to paint and to be invited to participate in exhibitions. His three children, now grown, are all artists.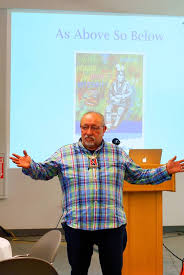 When Professor Emeritus Longfish joined the faculty of Native American Studies in 1973, his peers were Jack D. Forbes, David Risling, Jr., and Sarah Hutchison. The four of them delivered and sustained the undergraduate program together until the late 80s, when they began to recruit more faculty to the department.
On May 22, 2015, Professor Emeritus Longfish returned to campus to give a public lecture for the UCD Social Justice Initiative, "Social Justice, Culture, and (In)Security," funded by the Andrew Mellon Foundation. His lecture, titled, "Getting in touch with MySelf: Reflections of an Artist," took the audience through his journey with art, with creativity, and with spirit. He also held "A Healing Workshop: Who Are You and Why Are You Really Here?" After giving some opening remarks on the questions he posed, he worked with each of the participants who wanted a healing and/or consultation from him. Healing is at the heart of both his lived experience and his art.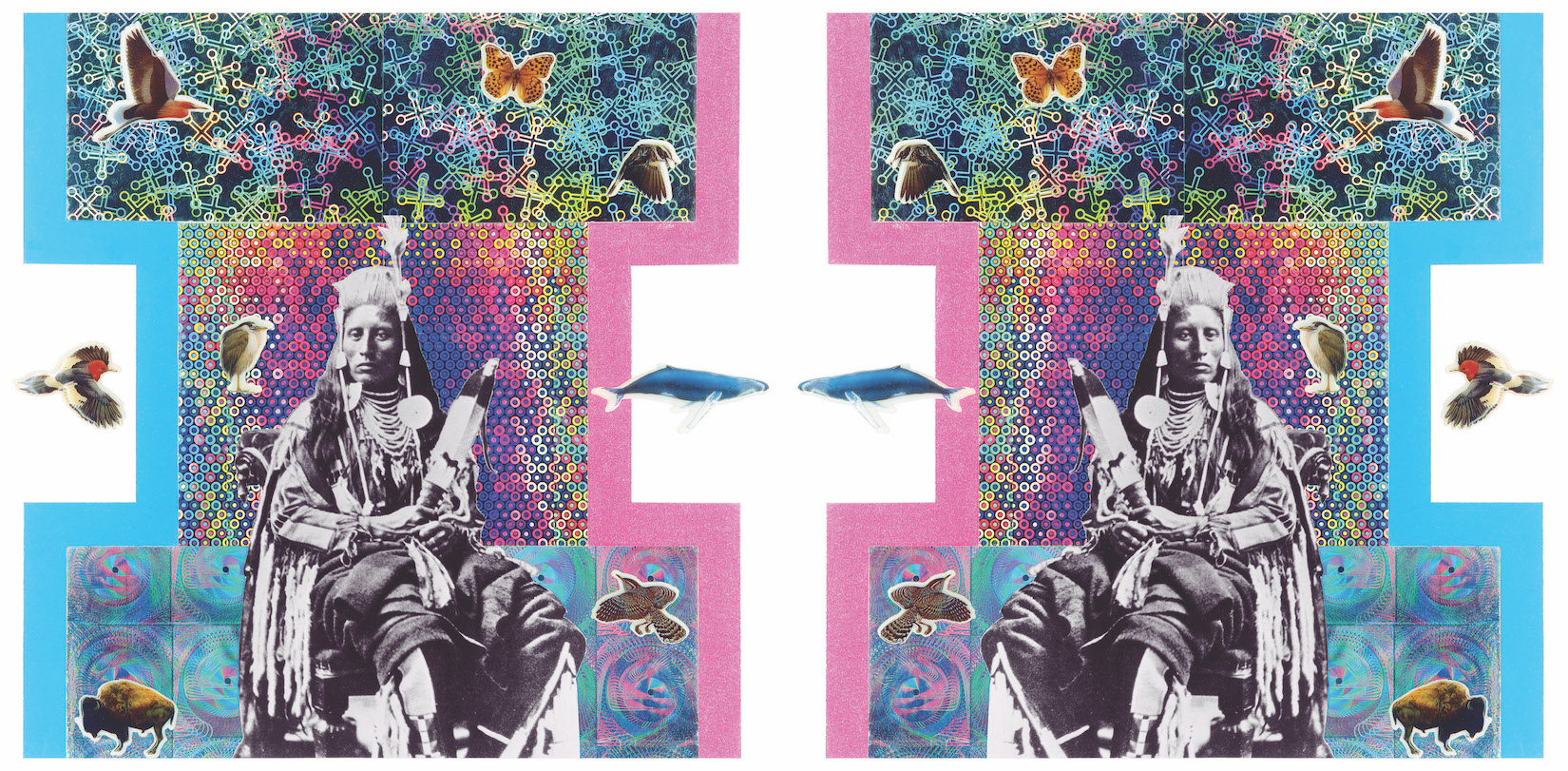 George Longfish, "I Am Reflection"
Trained as a painter at the School of the Art Institute of Chicago where he received his BFA in 1970 and his MFA in 1972, Longfish has been influenced formally by abstract expressionism, and spiritually by what he calls "warrior information."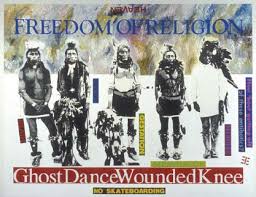 According to Longfish, "the greatest lesson we can learn is that we can bring spirituality and warrior information from the past and use it in the present and see that it still works." It is this spirituality inherent to the traditions of Indigenous peoples that inspires him to create large paintings, prints, drawings, and sculptures that challenge viewers with social and political issues affecting modern Indian life. He calls on history in his work, using irony, satire, and the unexpected to "connect-the-dots" in his own way for the viewer to contemplate. For those who know him well, including his many students over the years, his former colleagues, and his wide circle of friends, he is known for his humor and his healing abilities.
Longfish news at UC Davis and elsewhere:
George Longfish: Helping to define Native American culture, UC Davis Dateline, October 11, 2002
George Longfish: A Retrospective: http://www.umt.edu/umpress/umpress-books/longfish.php
An Interview with George Longfish: https://newsmaven.io/indiancountrytoday/archive/an-interview-with-artist-george-longfish-poyZvimsQ0yQArvtAAkvZA/
George Longfish: ArtsWA: https://www.arts.wa.gov/artist-collection/?request=record;id=2113;type=701
George Longfish: Indian on Indian: https://www.portlandmaine.com/events/george-longfish-indian-indian/