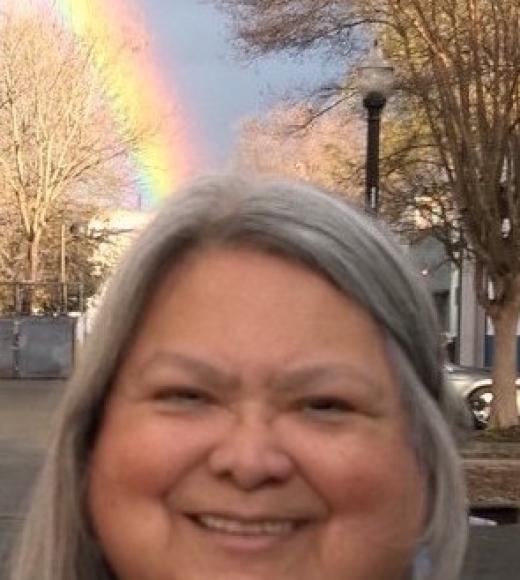 Bio
B.A., M.A., Ph.D., English, University of Houston
Professor
2415 Hart Hall
530-752-4394 
ighernandez at ucdavis.edu
Co-Director, 2013-2016, UCD Mellon-funded Initiative, "Social Justice, Culture and (In)Security"; Lead Director, 2014-2015--Theme: Global Indigeneities
Site Coordinator, May, 2011 Native American and Indigenous Studies Association (NAISA) conference
 
Professor Hernandez-Avila (Nez Perce, enrolled on the Colville Reservation, Washington, and Tejana) is one of the six founders of the Native American and Indigenous Studies Association (NAISA). She is a Ford Foundation Fellow at the doctoral and postdoctoral levels. In 2008 she won an American Council of Learned Societies fellowship, sponsored by the Center for Contemplative Mind in Society. This fellowship allowed her to focus on contemplative practice in her teaching as it relates to ancient Nahuatl and other indigenous philosophical traditions, as well contemporary indigenous expressions of personal and collective autonomy in the service of social justice. In 2009 she received the Academic Senate Distinguished Teaching Award at the Graduate and Professional level; she has also received the Outstanding Mentor Award from the UCD Consoritum for Women and Research. She is active with the Native Traditions in the Americas Group of the American Academy of Religion.  From 2013-2016, she was Co-Director of the three- year UCD Social Justice Initiative funded by the Mellon Foundation: http://socialjusticeinitiative.ucdavis.edu/. During Fall 2015, she was a member of a Residential Research Group (RRG) on "The History of Mortality" at the UC Humanities Research Institute, UC Irvine. In April 2017, she received the Frank Bonilla Public Intellectual Award from the Latino Studies section of the Latin American Studies Association annual meeting in Lima, Peru. In August 2017, she received a Community Award from the Organización de Organizaciones, Chiapas, Mexico, for her work as an ally to the cultural and linguistic revitalization movements of Mayan and Zoque people in Chiapas.
Research and teaching interests:
Native American/Indigenous Poetry; Contemporary Indigenous literature of Mexico; Native American Religious Traditions; Native American Literature in Performance; the relationship of creativity, spirituality, autonomy, and social justice; cultural (in)formations of identity and community; Native American women's and Chicana spiritualities; creative writing/poetry/short fiction.
DOWNLOAD Inés Hernández-Avila's CV [pdf]
Professor Hernández-Avila formerly directed the Chicana/Latina Research Center (the web archive for the CLRC can be found at clrc.ucdavis.edu).
Selected Publications:
Latina Feminist Group (including Inés Hernández-Avila), eds., Telling to Live: Latina Feminist Testimonios, Duke UP, 2001. (Selected as one of the ten best books of 2001 by the Gustavus Myer Center for the Study of Bigotry and Human Rights).
Inés Hernández-Avila and Gail Tremblay, eds., Special Issue on Indigenous Women, Frontiers: A Journal of Women's Studies, Vol. 23, No. 2 (2002).
Inés Hernández-Avila and Domino Renee Perez, eds., Special issue of SAIL: Studies in American Indian Literature, "Indigenous Intersections: American Indians and Chicanas/os in Literature" (2003).
Inés Hernández-Avila, ed., Reading Native Women: Critical/Creative Representations, Walnut Creek, CA: Altamira Press (June 2005)
Inés Hernández-Ávila and Norma E. Cantú, eds., Entre Guadalupe y Malinche: Tejanas in Literature and Art (February 2016)--http://utpress.utexas.edu/index.php/books/hernandez-avila-cantu-entre- guadalupe-malinche
Hernández-Ávila, Inés, chapter, "Manifiesto de Memoria: (Re)Living the Movement Without Blinking," Chicana Movidas! New Narratives of Activism and Feminism in the Movement Era, eds. Maria Cotera, Dionne Espinoza, University of Texas Press, 2018.
Hernández-Ávila, Inés, creative non-fiction, "Reflections on Dignity from a Woman who Walks Tall," About Place [online] Journal, Volume V, Issue III (May 2019), special issue, "Dignity as an Endangered Species in the 21st Century," guest editor, Pam Uschuk. https://aboutplacejournal.org/issues/dignity-as-an-endangered-species/identity/ines-hernandez-avila/
Undergraduate Courses:
NAS 157 Native American Religion and Philosophy
NAS 181A Native American Literature, Fiction
NAS 181C Native American Literature, Poetry
NAS 184 Contemporary Indigenous Literature of Mexico (Study Abroad)
NAS 188 Special Topics in Native American Literary Studies

NAS 185 Native American Literature in Performance--Students in NAS 185 work with the instructor throughout the quarter to create a full-length stage production that is performed publicly twice at a campus venue (often the Wyatt Pavilion). 
Graduate Courses:
NAS 200 Basic Concepts in Native American Studies (shared with two other faculty)
NAS 257 Indigenous Religious Traditions of the Americas
NAS 202 Advanced Topics in NAS, Indigenous Poetics and Performativities
NAS 254 Native American Literature
NAS 202 Advanced Topics in NAS, Narratives of Indigeneity
NAS 202 Advanced Topics in NAS, Workshop: Scholarly and Creative Writing
NAS 246 Native American/Indigenous Research Methodologies (shared with one other faculty)
Summer Abroad Course:
Class Projects and Archives