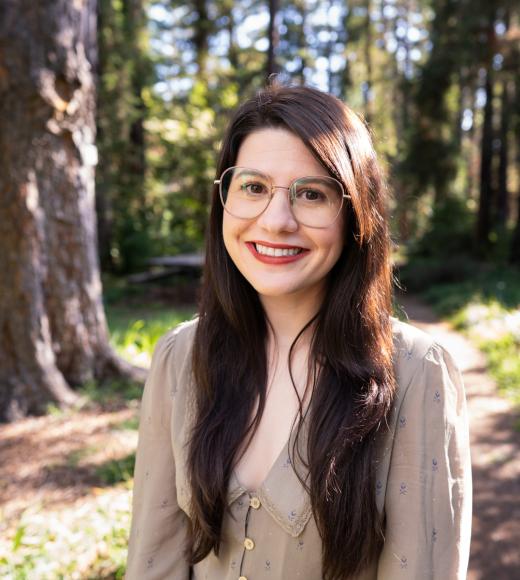 Office Hours
Fall 2023: By appointment
Bio
Kathleen Whiteley (Wiyot descent) is an assistant professor in the Department of Native American Studies. Her current CV is available below.
Prof. Whiteley's research focuses on Native American history in California. She earned her PhD in American Culture from the University of Michigan in Ann Arbor, where she studied in the fields of Native American history, American Studies, and Gender and Women's History. Before starting at UC Davis, she was a UC President's Postdoctoral Fellow at UC Berkeley from 2020-2021. The year prior, she was a Visiting Fellow at Harvard University in the Graduate School of Arts and Sciences. She teaches upper-division courses on Native American history (NAS 130B and NAS 130C), the large survey course called Introduction to Native American and Indigenous Studies (NAS 1), and a graduate course on readings in Native American history (NAS 280).
Prof. Whiteley's book manuscript is titled The Indians of California versus The United States of America, 1900- 1955. Her book manuscript is the first work to trace the history of the first land claims case brought by the Native peoples of California against the federal government. By illuminating the complexity of the claims case beyond the courtroom, this project unpacks the overlooked political origins of one of the western hemisphere's most unlikely indigenous political formations of the 20th century—the Indians of California—and the Indigenous efforts that shaped this new political category. By doing so, it illuminates the intergenerational work of fostering resilience and asserting affirmations of Indigenous futures in this historical homeland.
Prof. Whiteley was born and raised in Eureka, California. She is a descendant of the Wiyot Tribe.
Education and Degree(s)
Ph.D. University of Michigan, Department of American Culture
M.A. University of Michigan, Department of American Culture
B.A. University of California, Berkeley, Department of Native American Studies
Honors and Awards
University of California Humanities Research Institute, Faculty Summer Research Funding, Summer 2023.
UC Davis Center for the Advancement of Multicultural Perspectives on Social Sciences, Arts and Humanities (CAMPSSAH), Fall 2020 cohort
University of California, President's Postdoctoral Fellow, University of California, Berkeley, 2020-2021
Harvard University, Visiting Fellow, Department of History, Graduate School of Arts & Sciences, 2019-2020
Courses
NAS 1. Introduction to Native American Studies
NAS 130B. Native American Ethno-Historical Development, 1770-1890
NAS 130C. Native American Ethno-Historical Development, after 1890
NAS 280. Ethnohistorical Theory and Method
Research Interests & Expertise
California Indian History
Gender and Women's History
Native American History
American Studies
Membership and Service
The Newberry Library, Newberry Consortium in American Indian Studies, Faculty Liaison, 2021-present
Western History Association (WHA)
Native American and Indigenous Studies Association (NAISA)
American Studies Association (ASA)
California Indian Studies and Scholars Association (CISSA)