Steven J. Crum (Western Shoshone)
Professor Emeritus
sjcrum@ucdavis.edu
webpage
George C. Longfish (Seneca/Tuscarora)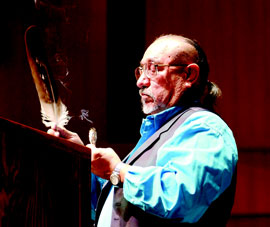 George Longfish (Seneca/Tuscarora), born in Ontario, Canada, has worked in the field of contemporary Native American art as an artist, educator, writer, and curator for over forty years. He is an internationally distinguished artist and an Emeritus Professor in the Department of Native American Studies at the University of California, Davis, where he was on the faculty from 1973 to 2003 and director of the Carl N. Gorman Museum from 1974 to 1996, and again during several years before retiring in 2003. Professor Longfish taught Modern Native American art, and art studio, as well as graduate level courses in his area. He developed the Gorman Museum as a premier showplace, bringing renowned Native artists to the UC Davis campus. He also supported spiritual activities in the community. On the occasion of his retirement, his work was featured in a major retrospective exhibit at the John Natsoulas Gallery. He is currently living and painting in Maine, and he has continued to be invited to participate in exhibitions. 
Trained as a painter at the School of the Art Institute of Chicago where he received his BFA in 1970 and his MFA in 1972, Longfish has been influenced formally by abstract expressionism, and spiritually by what he calls "warrior information." According to Longfish, "the greatest lesson we can learn is that we can bring spirituality and warrior information from the past and use it in the present and see that it still works." It is this spirituality inherent to the traditions of Indigenous peoples that inspires him to create large paintings, prints, drawings, and sculptures that challenge viewers with social and political issues affecting modern Indian life. For those who know him well, including his many students over the years, he is known for his humor and his healing abilities.
His email address is: redbearlongfish@earthlink.net
Longfish news at UC Davis and elsewhere:
George Longfish: Helping to define Native American culture, UC Davis Dateline, October 11, 2002
Images of Identity: http://www.al.csus.edu/sota/ulg/pastexhibits/images-of-identity/site/longfish.html
George Longfish: A Retrospective: http://www.umt.edu/umpress/umpress-books/longfish.php
An Interview with George Longfish: https://newsmaven.io/indiancountrytoday/archive/an-interview-with-artist-george-longfish-poyZvimsQ0yQArvtAAkvZA/
Martha Macri (Cherokee Nation, Tahlequah, OK)
Professor Emerita
mjmacri@ucdavis.edu
 
Victor D. Montejo (Jakaltek Maya)
Professor Emeritus
Professor Emeritus Montejo is a nationally and internationally recognized author and intellectual.  In 2000, his Voices from Exile: Violence and Survival in Modern Maya History obtained the National Award: Race, Ethnicity and Politics, American Political Science Association, in Washington D.C. In 2003, Victor Montejo obtained a Fulbright Scholars Award, Research and teaching in Guatemala, Universidad del Valle de Guatemala, Central America.

From 2004-2008, Montejo won a seat in the Guatemalan national Congress. From this post he was named Minister of Peace during of the Guatemalan Presidency and worked out the National Program for Reparation to the victims of the Armed conflict in Guatemala. He was president of the Congressional Commission of Indigenous People. As a Congressman he created passed the law of the National Day of Indigenous People of Guatemala, and proposed the Law Initiative: Ley de Consulta a Pueblos Indigenas.

Some of his other publications includes: Testimony: Death of a Guatemalan Village (1987); Maya Intellectual Renaissance: Critical Essays on Identity, Representation, and Leadership. Austin: University of Texas Press (2003); Popol Vuh: Sacred Book of the Mayas(1999); Q'anil: man of Lightning, University of Arizona Press (2002). (In press).
vmontejo@ucdavis.edu
webpage
Stefano Varese
Professor Emeritus
svarese@ucdavis.edu
webpage
Professor Emeritus Varese was awarded the OXFAM Latin American Studies Association (LASA) Martin Diskin Lectureship for Activist Scholarship.  The award was presented on June 8, 2013 at the LASA meeting in Washington D.C., at which time Professor Varese delivered his address.